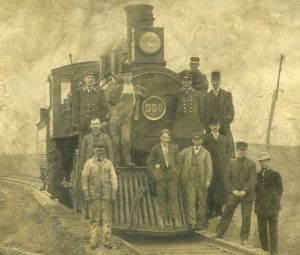 Harry Watson LaPorte was a railroad man. He was a young man on the move, which must be how he met his future wife over in Mifflintown.1 As their marriage notice put it, "He is a very refined young man of Tyrone. He has friends wherever he goes."  In 1897 he was the Chief Engineer for the Brotherhood of Locomotive Engineers, Tyrone Division, organized six years before. There were about 40 members and they met at the Odd Fellow's Hall twice a month.2 The Pennsy was a big employer in Tyrone at its peak payroll of over 500. There were three branches in the Tyrone Division: The Bald Eagle Valley line ran northeast to Bald Eagle Creek at Lock Haven; the Tyrone & Clearfield ran over the Allegheny Mountain to Osceola, Philipsburg, Clearfield, and Curwensville; and the Lewisburg & Tyrone ran to Scotia. Other lines connected Tyrone to Pittsburgh and Harrisburg and points east. The Division offices were in Tyrone. "In a room on the second floor may be heard, not the clack of tongues, but the click of keys. Here sits A.A. Witter, the Division Operator, in the focus of a network of wires, like a spider in the midst of his web and, with the aid of his assistants, watches the motions of each train that is out upon the road. Unlike the spider his work is not to devour but to save…"3
Harry and Jessie were married in 1891, by Rev. Davies at the Presbyterian Parsonage in Tyrone.4 Their first child was born six months later. The newspaper account described Harry as a fireman on the Clearfield and Tyrone branch railroad; he was not an engineer yet. They lived in Osceola Mills, north of Tyrone in the iron ore country, where their first child was born. They apparently moved to Tyrone before 1894, when the next child was born.5 They were members of the First Presbyterian Church in Tyrone, where their children were baptized.6
In 1900 Harry and Jessie were living in Tyrone. He was now a railroad engineer. They had four children living with them: Ada, Ira, Virgil and Richard. Blanche Pannebaker, a sister-in-law, age 14, was living with them, and probably helping with the children.  By 1910 they had moved to Rush Township, Centre County. This must have been a company town, since they were surrounded by other trainmen, foundry workers and coal miners. Five of the children were living with them: Ada, Foster, Virgil, Harry, and Karl. Richard had died in 1906 of diphtheria.
Harry died in 1928 in Tyrone. Jessie survived him for many years. She lived her last years with her son Karl and his wife Katie in Tyrone, and died there in August 1953. Harry and Jessie are buried at Grandview Cemetery in Tyrone.7 All of their children are buried in the Tyrone cemetery as well.
Children of Harry LaPorte and Jessie Pannebaker:
Ada Lyons, b. July 8, 1891, bapt. 1897, d. September 1976, m. John W. Long, son of  David & Elizabeth.  She was born in Osceola Mills, up north of Tyrone in the iron ore country.8  She grew up in Tyrone, married John Long in 1913 and had four sons: David, Joseph, Harry and Richard. She lived in Tyrone until the very end of her life when she moved to a nursing home in Hollidaysburg. She and John are buried in Tyrone.
Ira Foster, known as "Foss", b. Nov. 11, 1894, bapt. July 1897, d. Jan. 3, 1975, m. Mildred "Mick" Sprankle in 1923. Served in the First World War, in France from May 1918 to May 1919. His unit was there for the Meuse-Argonne Offensive, the principal battle of American soldiers during the war. Did he learn electrical work while in the army? Foss worked as an electrician for the Pennsylvania Railroad for 42 years.9 He married Mildred Sprankle, known as "Mick". Foss and Mick had no children together, but Foss adopted a son of Mick's from her first marriage, William Plowman (who took LaPorte as his last name). Mick and Foss spent their winters in Arizona, where he died in 1975, and she died in 1980.10 They are buried in Tyrone.
Virgil Corbett, b. Jan. 14, 1896, bapt. July 1897, d. Sept. 1960, m. Zelda Hartman. Virgil grew up in Tyrone. In 1918 he was inducted into the army, like his brother Foss, and sent to France. He later claimed that he had been exposed to phosgene gas while there, either in the St. Mihiel sector or the Argonne forest.11 When he returned he worked for the Pennsylvania Railroad as a machinist in the signal department. He married Zelda Hartman, daughter of David and Charlotte, before 1930, and moved to Perry County where he worked as a signal helper.12 Zelda died on Dec. 30, 1930. There were two stories in the family about her death: an ectopic pregnancy or an unspecified ailment due to food faddism.13 Virgil never married after her death. He was well-known in Tyrone for his athletic prowess, as an amateur wrester (system champion of the PRR competition), coach for swimming and basketball teams, and referee.14  He died in 1960 and is buried with Zelda at Eastlawn Cemetery, Tyrone.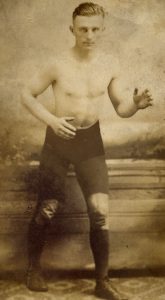 Richard Porter, bapt. July 2, 1899, d. August 29, 1906 of diphtheria, buried in the Tyrone cemetery.15 There were other contagious diseases in Tyrone at the time of his death. The Tyrone Daily Herald reported a daily list of persons quarantined, and on August 31 Virgil LaPorte and Ada LaPorte were both quarantined. The State Department of Health published strict rules. People who died of certain diseases, including cholera, meningitis, diphtheria, yellow fever, scarlet fever had to be buried within thirty-six hours and there could be no funeral for them.
Harry Alvin, b. 1902, bapt July 1904, d. May 1969 in Pompano Beach, Florida, buried in Tyrone. Harry lived in Florida and never married. He travelled with a circus until he retired, then worked as a short-order cook.16 He died in Florida in 1969, but is buried in Tyrone.
Karl Eugene, b. Jan. 22, 1906, d. December 1976, m. Louella Kathleen Kaufman, "Katie". Karl grew up in Tyrone, graduated from Juniata College, and became a teacher. He taught in the Tyrone schools for 39 years.17 He was an outstanding athlete, and coached football, baseball and basketball for the Tyrone teams. In December 1940 he married Louella Kathleen Kauffman, known as "Katie", the daughter of Harry and Anne Eyer Kauffman.18 Karl and Katie had two children, Nancy and Terry.19 Karl died in 1976. Katie died in June 1982. They are buried together at Eastlawn Cemetery.