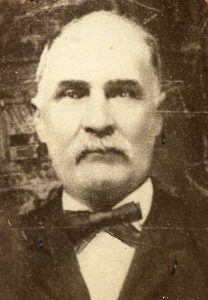 Anson Parson LaPorte was the grandfather of Ada LaPorte Long, and she remembered him, along with his brothers Hunter and Dolf. According to her, Anson worked for the Carnegie Company at one time and had an opportunity to go to Pittsburgh with Carnegie, but refused, thereby missing a chance to make the family fortune.1 She also believed that Anson drank too much. There is no evidence for either of these stories.
Anson was born in 1842 in on the family homestead in the Spruce Creek Valley. He learned the trade of wagon maker from his father John, and worked as a wagon maker or carpenter all his life.
When he was 21 he enlisted in the Civil War, where three of his brothers would also serve. His enlistment papers describe him as 5′ 8″, with gray eyes, light hair and a fair complexion. He served in two regiments. The 46th Regiment Militia Infantry was organized at Huntingdon on July 1, 1863, for the protection of Pennsylvania during Lee's invasion. It was mustered out on August 18, 1863. The 205th Infantry Regiment, his second enlistment, saw more action. It participated in siege operations against Petersburg and Richmond, constructed fortifications at City Point, Virginia, supported the Weldon Railroad Expedition, fought at Fort Stedman and in the Appomattox Campaign, served at the assault on Petersburg, pursued Lee to Burkesville, and was mustered out on June 2, 1865. Anson rose to the rank of corporal and apparently survived the war with minimal ill effects, although years later he claimed a pension based on a fractured ankle caused by a fall at the Battle of Fort Stedman in Petersburg, on March 25, 1865.2
Between the two enlistments Anson married Nancy Ann Watson in Altoona in 1864. They moved in with her parents John and Mary Ann, in Franklin Township, and were still there in 1870, with three children: Harry, Ella and Charles. They owned no real estate and had just $200 in personal property.3  They moved to Orbisonia, down in Huntingdon County, for a few years, perhaps in search of more prosperous trade, then moved back up to Rock Springs, Centre County, not far from Spruce Creek. They were there in 1880, with six children, but moved to Tyrone the next year, about the time that Nancy had their last child.4

Daughters of Anson and Nancy Ann: probably from left to right, Ella, Carrie, Maggie, Mamie, Flossie. 5
Anson and Nancy lived on Bald Eagle Avenue in Tyrone. In 1900 they owned their house outright, with no mortgage. He was still working as a carpenter.  In 1898 he had the index finger of his right hand amputated; was this a woodworking accident?6
Seven of the children were living. Two of the daughters were still at home. Ella was "plain" and did not marry.7 Flossie was the youngest and not yet married. At some point Anson became a laborer in the paper mill.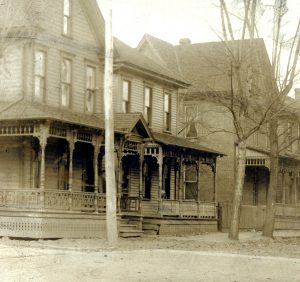 Their house was the second from the corner (in the middle).
Nancy died in July 1906 of tuberculosis. After she died, Anson stayed in the house, with Ella to keep house for him. He died on July 22, 1913 at age 71.8 After this Ella moved to Altoona and worked as a seamstress in a dress shop.9 Anson and Nancy are buried in Grandview Cemetery in Tyrone.10
Children of Anson and Nancy:11
Harry Watson, b. 1865, d. 1928, m. 1891 Jessie May Pannebaker, dau. of Moses & Martha. He was an engineer for the Pennsylvania Railroad, active in the Brotherhood of Locomotive Engineers, Tyrone Division. He and Jessie had six children, five sons and a daughter. Jessie survived Harry by many years and died in 1953.12
Ella Irene, "Ella Rea", b. 1868, d. 1944, wore her hair bobbed, did not marry, kept house for her father until his death, then moved to Altoona and supported herself as a seamstress in a dress shop .13 She sued her brother Harry at some time, for reasons no longer remembered, possibly over an inheritance from their parents.14
Charles Emmett, b. 1871 in Rock Springs, d. 1934 in Juniata County, m. ab. 1896 Minnie Goss, had one son, Ambrose. In 1910 they were living in Juniata Township, Blair County, where Charles was a car builder for the railroad. Ambrose went to college in Philadelphia to study pharmaceuticals, possibly the first child in the LaPorte family to go to college. Charles and Minnie lived in Altoona through 1930.15 In 1931 Minnie died. Charles went to live with his son Ambrose and wife Mildred in West Mont, Cambria County, where he died on May 17, 1934.16 He was clean-shaven and good-looking.17 He and Minnie are buried at Grandview Cemetery in Tyrone.
Caroline Carlton, "Carrie", b. 1872, d. 1955, married David Mingle.  Caroline, known as Carrie, was very much a lady.18 She married David Mingle in 1895 and had sons David Blair, known as Blair, and Chester. In 1900 they were living in Tyrone, where David kept a general store with his brother. They sold groceries and dry goods on Pennsylvania Avenue, just below Eleventh Street.19 By 1930 Caroline and David moved out of town into Snyder Township, where David was working as a real estate broker. Blair was killed in a plane accident in 1919, while he was serving as a "naval flier". David died in 1943 of a heart attack while driving his car near the paper mill in Tyrone.20 On July 2, 1949 Caroline was admitted to a nursing home in Altoona.21 She died in February 1955 in Vermilion, Ohio, probably in Chester's home, but was buried in Tyrone.22
Sarah Margaret, "Maggie", b. May 18, 1875 in Orbisonia, Huntingdon County, d. January 27, 1948, m. Frank Gardner on December 25, 1894.23 They lived at first in Snyder Township, Blair County, and started their family there. By 1910 they had moved into Tyrone and had three more children. In 1930 they were still on West 15th Street in Tyrone, where Frank was a manager for a planing mill. Most of their children had moved out. Frank died in January 1937. The contents of his estate, a meat cooler, slicer, cases, and more, suggest that he was running a butcher shop by then. Maggie died in 1948. She and Frank are buried at Grandview Cemetery.
Mary Ann,"Mamie", b. 1878, m. Frank McIntyre of Pittsburgh. They were married on January 16, 1900 in Pittsburgh.24 He worked at first as a brakeman for the railroad. In 1900 they were in the lodging house of the widow Elizabeth Rush on Arch Street in Allegheny City. Ten years later they were still in Allegheny County. They In 1930 they were still there, with a daughter Nancy, age 16. Frank was a superintendent in a telephone company.25 No records have yet been found for them in the 1940 census or the PA death certificates.
Emma Florence, "Flossie", b. 1881, d. 1966, m. David B. Shimer. She was the youngest of the children, and the one who moved farthest away from Tyrone. She married David Shimer on June 24, 1903, and they moved to Wilwaukee, where he was a foreman in a sheet metal plant. In 1930 they were living in Cleveland, Ohio, where David was still in the sheet metal business. She died in 1966 in Elyria, Ohio. David died in 1971. They are buried at Maple Grove Cemetery.26